Summer Learning Activities to Help Prevent Summer Learning Loss
Summer learning activities are a fun way to keep students' minds working over the break!
Browse our Library for material that best supports your students' learning.
Try Our Memory Tool or Pre-Made Games
Our popular memory game allows users to create custom memory games by adding word and image lists of their own. We also offer multiple pre-made memory games that allow students to practice concepts such as:
CVC words (consonant-vowel-consonant, good for young learners)
In the settings for the memory tool, you can increase or decrease the number of cards displayed and also edit your selected word and image list. Have students play a memory game at home individually or with friends and family – with learning games and activities, there is no wrong way to play!
Get Creative with Pattern Blocks
Pattern blocks give students a chance for fun hands-on learning that covers a variety of basic concepts such as recognizing shapes and patterns, developing a sense of quantity, and being introduced to concepts such as perimeter and area.
Our pattern blocks give users access to 6 different shapes and colors. Users can resize these shapes and group them together with other shapes to create entirely new patterns. This activity is ideal for users who access Gynzy from a tablet.
Tell a Story Using Our Story Prompts
Telling stories is an essential part of communicating with others and is necessary in many different aspects of our lives. To practice this skill, our story prompt activity includes 23 fun images for students to use to kick-start their own stories.
To create their stories, students can type into our text tool or draw directly on their device. If a student needs to practice their handwriting, we also offer a range of lessons for students who are practicing writing numbers and letters in both print and cursive, such as:
End-of-Year Learning Activities
At the end of a long school year, it can be difficult to keep students motivated and excited about learning. Our end-of-year learning activities offer 8 pre-made, summer-themed games and activities to get students minds and creativity working. These activities include:
A summer acrostic poem (printable included)

A summer-themed mad lib

A summer-themed memory game

Fun exercises and an emoji activity
Keep students excited about learning with these short and sweet summer learning activities!
Practice Spelling and Building Words
Two of our most popular educational games involve building and spelling words correctly.
In Lingo, players get 5 chances to guess a word that's either 5 or 6 letters long. When a letter becomes green, that means you've put the right letter in the right place. When a letter shows as yellow, that means you've found the right letter but it's not in the right place just yet. Letters that flash red mean they are not a part of the word.
In Ruzzle, players are shown a 4×4 grid of letters and are given two minutes to find as many words as possible. How many words can you find?
Study a Photo of the Day
The Photo of the Day activity includes 60 amazing photographs of monuments and landscapes from all over the world. Each picture comes with facts about the region and identifies where the pictures are located on a map. The last slide associated with each picture includes additional links and resources about the location featured.
This lesson on identifying the continents and oceans goes well with Photo of the Day, as does this lesson about the similarities and differences between a map and a globe and this lesson on the 5 themes of geography.
Play Bingo
Our take on bingo is great for students who are working on quickly recognizing numbers and letters. It is also a fun game that students and others can play over the summer to stay connected without needing to meet up in person.
Make a Song with our Music Maker
Our Music Maker gives users the chance to create their own song using a virtual piano and drum track that can be played at normal, half, or double speed. You can create up to 10 sheets or pages of music and save them to listen to or edit later.
If you are looking for other age-appropriate music to listen to, check out the Gynzy Jukebox or our Letter Songs (A-Z), which feature 4 different videos for every letter to help students better recognize them.
Get Your Blood Moving
Our brain breaks also give students fun physical activities to do, four of which can be done independently. For physical activities that also involve practicing concepts and answering questions, the Math & Movement series includes a series of videos involving students running in place and solving problems as they appear:
Recognizing Numbers & Solving Equations
Gynzy offers educational games to help students work with and recognize numbers.
Try practicing multiplication with content like:
Take Time to Recharge
Before the end of the school year, consider setting up a challenge board for students filled with Gynzy activities. These independent activities can give them a fun way to practice important skills!
About the author Nick SanGiacomo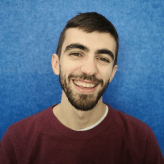 Nick is a Content Marketing Specialist at Gynzy.