New: Paste Images
December 9, 2019
0 minutes
You are now able to paste images directly into Gynzy. Simply copy the image from Google or your computer and use the keyboard shortcut Ctrl + V or ⌘ + V to place it onto your board.
Images that you paste into Gynzy will then automatically appear in My Images, which is accessible from the rainbow-colored shortcut on the bottom-left of the board.
Once an image is in your My Images folder, you can access it at any time to add it to another page or lesson plan.
This also applies to screenshots that you take. You can easily take a screenshot on any computer and save it in your clipboard. You can then paste the image that is in your clipboard onto the board.
Feedback helps
At Gynzy, we value user feedback greatly. The development of this feature was a much-requested functionality:
I paste images into Gynzy every single day, and it creates a lot of extra work for me to screenshot or save images from the internet before putting them into Gynzy.
– Wilshire Park Elementary
It would definitely help when doing research or adding images for projects.
– Dunn Middle
If you would like to vote on or suggest new features, share your ideas at www.gynzy.com/ideas.
About the author Nick SanGiacomo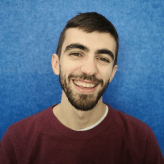 Nick is a Content Marketing Specialist at Gynzy.