New: Choose Your Own Colors with the Color Picker
December 2, 2019
0 minutes
Lines, shapes, and texts can be written in all the colors of the rainbow! The color palette has been expanded to include four personalized colors. You can add four customized colors to the standard color menu.
When adding lines, shapes or text to the board you were able to choose from a few standard colors. We got feedback from many teachers who told us they wished they could use more colors or other colors than were included in the standard colors.
When you add a line or shape the color picker appears, or you can open the color picker when adding text to the board.  The color picker has been expanded to include four personalized colors. After you select these colors, they are automatically saved for future use. These colors can be modified at any time.
The bottom row of the standard color menu is where the customizable colors are located. You can select them and modify them endlessly. If you have not yet selected any personalized colors, you will see a grey dot with a plus-sign. Click to open the color picker. This color picker might look different than in the example above due to your operating system and browser. Below you see a few examples of color pickers you might see depending on your operating system and browser:
Feedback helps
How can we make your board experience even easier? Share your ideas at ideas.gynzy.com
Gynzy loves feedback and we'd love to hear from you. This tool was created based on feedback from one of our teachers:
"I'd like the possibility to choose more colors. Is it possible to add some sort of color picker, similar to what exists in other programs?" – Ds. G.H. Kerstenschool
About the author Nick SanGiacomo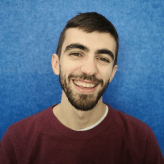 Nick is a Content Marketing Specialist at Gynzy.