New Feature: Document Import
September 3, 2019
0 minutes
Now you can import documents such as PDF, PowerPoint, and Word on the Gynzy board and save them in your own lessons. This way you can enrich your lessons with beautiful content from documents such as presentations and worksheets that you already have.
Click the "more options" button on the toolbar and choose "Upload document" or drag a document from your computer to the Gynzy board.
Every page from your document will be imported as a new page in your lesson. Use the buttons on the left, which appear when you insert a document, to zoom in or out, or move the page.
Shrink and move
You can shrink or move the pages of the imported document on the board. To do so, unlock the element first by clicking on the lock.
About the author Nick SanGiacomo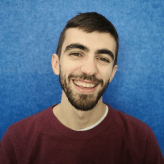 Nick is a Content Marketing Specialist at Gynzy.