Bingo!
October 19, 2021
0 minutes
Play Bingo with your class! With our bingo tool, all your students can participate. Need bingo cards? No problem. You can generate and print individual bingo cards for students that match the settings of your game.
Bingo is accessible to everyone and does not require specific prior knowledge, making it a perfect game to use at any time, in any classroom. Easily adjust the number range you want to play with and what size bingo cards you want to use through the tools settings.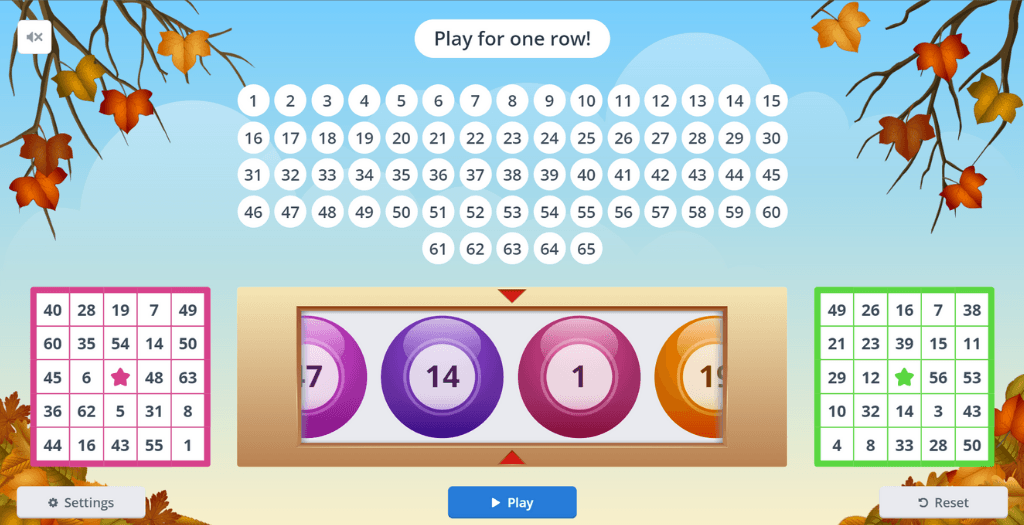 Choose Your Own Settings
You can create your own bingo boards and game via the "⚙️Settings." Start by choosing if you'd like to play as two teams or with individual students/players (up to 99). If you play with two teams, you can mark off the numbers on an Interactive Whiteboard or personal device. If you choose to play with multiple individual students, choose the number of boards you need and hit "Print."
Note: If you don't have access to a printer, hit Print and save as a PDF to your desktop!
To determine the length of the game, you can also choose the number range that the tool will use (minimum 9, maximum 75), as well as the number and arrangement of cards shown (3×3, 4×4, or 5×5). Finally, you can choose what the winning conditions are for your bingo game. Do students need to fill up the whole card, or just one row/column/diagonal? You decide – then hit "Save" to begin playing!

Once you've chosen and saved your setting, press "Play" to draw a number, and the tool will automatically track the numbers that have been selected. When somebody fills a row, press "🎉 Bingo!" or "Next" for a celebration!
Here are some other tips to keep in mind when playing Bingo on Gynzy:
Laminate the printed bingo cards so they become reusable.

Looking for a little more color? Set an image from our image library as background for the tool. That way you can dress the activity up to match a theme or season.

If you enjoy Bingo and plan to use it regularly, try favoriting it in the Library for easy access.
Try Picture Bingo!
For younger students who haven't learned to recognize numbers yet, or just for a twist on the classic Bingo game, we also offer Picture Bingo! This game works the same as our standard Bingo game, but with images and a smaller 2×2 board to make it more accessible.
This version of Bingo also comes with different picture themes that you can choose from the settings, such as:
The 4 Seasons

Holidays

Birthdays

Sports

Healthy Foods
As with our standard Bingo game, educators can choose to play in two teams or print out individual Picture Bingo boards for students to use.
Other Educational Games from Gynzy
Gynzy contains many educational games besides the bingo generator that teachers can use to give students a break while keeping their minds active. Some of our most popular games are:
These are just some of the educational resources available on Gynzy – we also offer thousands of lesson plans covering Math, ELA, Science, History, SEL, and more!
About the author Nick SanGiacomo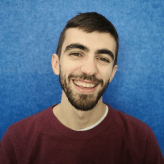 Nick is a Content Marketing Specialist at Gynzy.