New: Upload Audio Files to Gynzy!
Make lessons more dynamic and engaging by uploading audio files to your lessons!
Now you can add audio the same way you add images to Gynzy. Upload the files from your computer or Google Drive, or drag the file directly into Gynzy. The audio file will import and be shown on the page in the form of an audio player. It will automatically be added to your personal audio library where you can return to it, or use it again at any time. 
Your personal audio library can be found in the media tab on your Gynzy whiteboard, where you can also upload images and videos to Gynzy. In the Audio tab you will find the audio files you've already uploaded and have the option to upload new audio files, either from your computer or from Google Drive. Both MP3 and WAV formats are supported. 
With the ability to upload audio to your lessons and activities, Gynzy educators can make their lessons that much more engaging. Try using audio in the classroom to: 
Give instructions about specific activities

Listen to fun educational songs in class

Incorporate audio-based activities into class

Leave behind instructions for substitutes

Help students learn proper pronunciation
Tip: Make sure that the audio files that you import have clear names. These names are visible in your audio and searchable, so you can find them again when you need them.
The audio player
After you have added audio to a page, you can modify the display via the settings. The default display is the audio player. The other option is a compact button, which can be customized to be different colors. The audio player has more options, including a play, pause, and stop button.
Feedback helps
The option to add your own audio has been a highly requested feature in Gynzy. Some of the comments we have gotten from teachers include:
"I would use this tool for my students who learn Italian as a second language. Also, I would use it to help my students with dyslexia. Please make it available soon."
"It is very crucial because now language teachers have to use multiple tools and find ways how to implement recordings from the textbooks in the lesson."
"When I am not in the classroom I can record my voice so that the substitute does not have to speak."
"Because I am a teacher of English and usually I record voice notes for my students."
"First graders must have 'voice' when working on activities. Many students are at a variety of reading levels."
About the author Nick SanGiacomo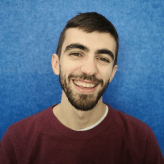 Nick is a Content Marketing Specialist at Gynzy.