Organize Your Lessons into Folders
December 24, 2019
0 minutes
You are now able to organize your lesson plans into folders. This lets you categorize lessons and activities however you'd like, making it easier than ever to integrate technology into your curriculum. You are able to access folders from the new menu bar on the left-hand side of your screen when you are in the Gynzy Library.
Creating and navigating folders
Creating a folder is very simple. Once you've selected the folder from the sidebar, click New folder on the top right of your screen. You'll then be prompted to name the folder. You can also create folders inside of folders, making it easy for you to separate your lessons and activities by subject. The folder that you're currently in is listed on the top-left of the screen, making it easy to navigate between folders.
Moving lessons or folders
Folders and lessons can also be easily re-organized within the Gynzy Library. You can do this as follows:
Click a lesson to select it. On the right-hand side of this lesson, the options button will appear, represented by the gear icon;

Click on this button and then choose the Move option. Now a small overview of all your folders will appear;

Navigate to the folder that you want to move this lesson to, click Move, and then select the new folder you'd like to place it in.
These instructions apply to both individual lessons and folders of any level.
Mold your Gynzy board to fit the needs of your class
The ability to store and categorize lessons into folders brings educators one step closer to unlocking the full potential of the Interactive Whiteboard. In our ongoing development of Gynzy, we plan to make it possible to share lessons and folders. Keep an eye on our blog and our newsletter to follow the latest updates.
How can we make the board even more convenient for you? Share your ideas at gynzy.com/ideas.
About the author Nick SanGiacomo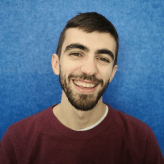 Nick is a Content Marketing Specialist at Gynzy.